Catching up on the Preseason
Well here we are. Liverpool's time on their US tour has come to an end, and they will soon be on a flight back to Europe to continue their preparation for the upcoming Premier League season. Though there's still a bit more to do before the West Ham game kicks off, and plenty of guys still needing to join the squad after their holiday, I thought now is as good a time as any to perhaps review what we've seen so far this summer. It's been awhile since I've written anything, but here are some talking points and general observations I've come up with:
Everyone loves new blood!
As we see every summer, several youth players have been brought on the annual preseason tour. Some we've seen before (Woodburn, Ojo, Chirivella) but there have been a few others this year who have really taken their chance to impress the boss.
Young wideman Rafa Camacho has seen some great minutes at both right-back and further forward. Though his general passing was hit and miss at varying times, his delivery and crossing ability has been impressive. After years of failing to beat the first man or sending it well out of play, it's refreshing to see good crossing technique and vision coming out of the academy, considering both Trent Alexander-Arnold's and Ben Woodburn's recent breakthroughs. He's not quite ready to make a step up, but he's certainly marked himself as a name to watch, especially with his positional versatility on the wing.
Midfielder Curtis Jones was perhaps the pick of the lot in the US. Be it his confidence on the ball, his clean tricky dribbling, or his crisp passing, he seemed to light up whenever he took the pitch. Understandably likened to Wooburn's performance in preseasons past, Jones has established himself as the Golden Boy of Liverpool's academy (at least until Rhian Brewster recovers!). Like Woodburn at his age, Jones still has plenty of growing to do before we start seeing him regularly, but this is just the start for the young man. It'll be an exciting next few years seeing his development, hopefully breaking into the first team full time.
Center-back and reserve captain Nathaniel Phillips also made some strides, gaining valuable experience playing next to Virgil Van Dijk and perhaps giving us a glimpse of the future partnered with Joe Gomez. Although perhaps his name isn't as recognizable as his U23 teammate Conor Masterson due both his own injury and injury in the first team requiring a call up, Phillips solidified himself as a legitimate option if called upon this summer. As the one of the older young players in the squad at 21, he might have done just enough to get regular time with the squad during the season. There were some mistakes, as expected from an inexperienced defender, but his composure and general play may even have earned him mins in early cup games.
Special mention to our two young goalkeepers. Though there was very little to do most matches, both Kamil Grabara and Caoimhin Kelleher put in good shifts between the sticks. Grabara seems to have been the preferred keeper coming into the tournament, but Kelleher in particular impressed with his game intelligence and organization of his defenders. While they are only competing for the 3rd choice spot, it's clear we have two very good prospects on our hands. No matter who comes out on top, it'll be intriguing to watch their development
Let's not forget about last year either...
As touched upon above, this year's crop of young stars is vaguely reminiscent of last year's group. Marko Grujic, Dom Solanke, Pedro Chirivella, Ben Woodburn, Trent Alexander-Arnold, Sheyi Ojo, Ryan Kent, Ovie Ejaria, and Harry Wilson all impressed to varying degrees last preseason. While TAA has kicked on remarkably, the rest have been overshadowed this summer. Some have left the club on loan, but Grujic, Solanke, Woodburn, Ojo, and Chirivella have gotten good minutes so far with little fanfare. While there are valid concerns over their development curve, as fans we must be careful to keep our expectations in check. Young players rarely develop at a steady rate, and while it's always exiting to see kids break through in a flash of brilliance, we can't ignore the hard work put in and less obvious growth young players make from year to year.
Solanke and Woodburn seem to both have stagnated a bit, based purely on their preseason performance (the former a bit more than the latter). It's to be expected, as all players get into a funk at some point in their career. However, the great ones still find a way to make a difference when needed, and often break out in big way. How the two youngsters work to break change their fortunes may very well define their short term future, and without a doubt the experience being significantly out of form will be a good lesson to learn. Solanke in particular has been out of form for awhile, so he will need to step up if he hopes to be considered as an option.
I have a bit less to say about the others, but a note on Grujic: there were mixed reviews coming out of his loan last season, but one thing that stood out to me so far this summer is the vast improvement in his composure and maturity. He's not getting the goals he did last year, but he's also not nearly as reckless with and without the ball. Perhaps a spell in the Championship is just what he needed.
First Impressions
Our woes in the transfer market under FSG are well documented. However, be it FSG's grasp of the learning curve, the apparent dissolution of our infamous transfer committee, or the appointment of both Jurgen Klopp and Michael Edwards into key positions within the club, we've completed some absolutely stellar incoming deals in recent years. Last year's recruitment of Andy Robertson, Alex Oxlade-Chamberlain, and Mo Salah might go down as one of the best windows in recent memory, but after some glimpses of this year's haul, they may be given a run for their money!
Naby Keita is perhaps the most anticipated acquisition in recent memory, with his deal completed and announced last summer, and based on his early performances, he won't disappoint. His silky touch on the ball, stellar work rate, and overall star potential has enamored fans around the world. Although he's not a completely natural replacement for Philippe Coutinho, he appears to have the same magical quality about him, and will slot into the starting midfield marvelously, along side another of our midfield recruits...
Fabinho was a surprise signing, seemingly going from rumor to done and dusted in just minutes. Many were certain that Klopp would never sign a true DM, and yet we somehow ended up with arguably the best DM on the market. He hasn't quite hit the ground running quite as well as Keita, but that's perhaps expected from playing in a new team that's been without a man with his skill set for quite some time. Between his positioning and tackling, there really should be no reason Jordan Henderson ever lines up as our deepest midfielder as long as Fabinho is reasonably available.
Take a bow Xerdan Shaqiri! There's not much more I can say after just one half of play, but in addition to scoring an absolutely astonishing goal, he seemed to fit in naturally with the group on the field. I for one will be looking forward to seeing more before the season starts.
One last note on players
As always during preseason, many players on the fringes got a chance to prove they have what it takes to contribute during the regular season. The most notable of these were youth players, but there were a few others that I feel are worth mentioning.
Oh Danny boy. What are we going to do with you? Every time you convince us that you need to be moved on, you come right back and remind us of your class and talent. Once again, Sturridge showed us what we already knew: when fit, he's an absolutely deadly striker deserving of playing in any side in Europe. However, we all know he's almost never truly fit. It'll be interesting how this plays out, but it does seems he's more comfortable playing with the limitations he's developed due to his injury record (i.e. his loss of pace). He's taken up a far more creative role this preseason than he has in the past, both in his runs and passing, and it's paid off with far more time and space on the ball than if he were to continually operate off a defender. Is that change he needed to make for his career? Will it last?
Lazar Markovic is still a red. That's probably not as shocking as the fact that Adam Bogdan is still with the club, but seeing him take the pitch this preseason was definitely a surprise, especially with the assumption that he has no future with the club. However, credit where it's due. His passing has been crisp and he's been been far more involved with general play than in the past, at least since Brendan Rodgers left the club. He still needs to put much more effort into general work rate, but it's certainly nice to see signs of life, even if he ends up leaving in the next few weeks.
A touch on tactics
I'm not going to pretend to be a tactical guru. I'm not. However, there's a noticeable improvement on the overall balance of the squad. Yes, we're still far more comfortable in attack than defense, but the midfield has been rejuvenated with the additions of Keita and Fabinho. There's far more specialized talent without sacrificing work rate, and it's obvious the effect that has on general play. It would be nice to have a true replacement for Coutinho's attacking drive, but it's becoming increasingly apparent that Klopp had a clear plan for the tactical scheme of the team for this season, and he's definitely achieving it. We see development every season he's here, from the initial introduction to gegenpressing, to the tone back into more counter attacking play we saw last season, it'll be exciting what the next phase in development will be.
Lastly, a nod to the fans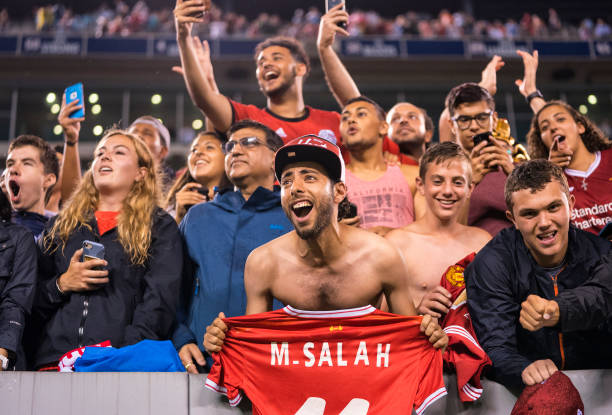 Unfortunately I was unable to make it out to any matches live. Ann Arbor is only a 2 hour drive from my home town, but of course I ended up relocating to another part of the US for the summer. However, it makes me proud to see the support our great club garnered during their time in the States. Watching matches every week based out of England/Europe makes it easy to forget, but every summer when the squad embarks on their tour we are reminded of the global family we all belong to.
I wish I could say a little bit more aside from just player observations, but that's all I got for now. It's been a great few weeks, but the market is still open and there's still a few more games to go! A great preseason doesn't mean much, but this definitely seems to be leading up to a truly memorable season!
YNWA :D